Best daycare/creche in gurgaon : professionaly-run, hygienic, safe, personalized - Gurgaon
Wednesday, 6 March 2013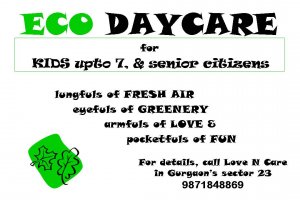 Contacts

Y. Singh

9871848869
Item description
LOVE N CARE – ECO DAYCARE IN GURGAON'S SECTOR 23

PROFILE

Love N Care, with its clean, air-conditioned indoor area and its secure, grassy, tree-lined playground, is a breath of fresh air. This is particularly so for small children/elderly parents of working people who live in hi-rise buildings or in noisy, polluted environments. The daycare is conveniently located near corporate complexes like Maruti Udyog, Udyog Vihar, Electronics City, Dundahera etc. and is off Palam Vihar Road, beside a schoolbus drop-off point.

At Love N Care, a variety of closely supervised/facilitated indoor and out-door age-appropriate activities conform to a curriculum customized to a member's age and needs. They provide ample opportunity for optimum development of various skills in the case of children; cheer and revival of faculties in the case of the elderly. Activities include (but are not limited to), yoga, nature play, cycling, homework supervision, arts and crafts, story-telling, grooming for school etc. During school holidays, Love N Care organizes craft camps.

Love N Care has a doctor on call and a first-class hospital next door (Columbia Asia) to cater to any emergency. Hygiene and security are amongst Love N Care's top priorities.

Love N Care is run by a responsible, dedicated and certified educator with 9 years' experience of teaching and care-giving (including child crisis management!). She possesses excellent references. The lady in question is ably assisted by her mother-in-law, one of the brains behind the daycare. This mother-in-law is a Daadi of two school-going children, plays the role of Daadi to Love N Care's kids, mentor to their mothers and friend to Love N Care's senior citizens.

Love N Care is all about learning through fun, sharing, and being nurtured through love and care. So, if it's a healthy, soothing, safe, personalized and professionally-run daycare you want for stimulating your dependent's sense of wonder, creativity and fun for his/her emotional, mental and physical development, you'd do well to call 9871848869 for an appointment.

We look forward to meeting you, and having your child/parent join the Love N Care family.