Vipul Aarohan Sector 53 GUrgaon @ 9555077777 - Gurgaon
Wednesday, 9 December 2015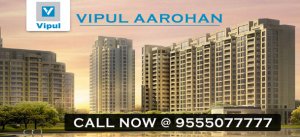 Contacts

Anu singh

9555077777
Item description
VIPUL New Launch Project"VIPUL AAROHAN"Sector – 53, Gurgaon

Best price Guaranteed 9555077777we arrange the site visit

For More Details: httpwww.newlaunchgurgaon.in/Gurgaon/T4/? Vipul_Aarohan/157
VIPUL launching shortly 'AAROHAN' at Sector-53, Golf Course Road, Gurgaon, spread over 20 verdant acres opens doors to luxury , privacy and convenience. VipulAarohan, on Golf Course Road, Gurgaon, the embodiment of urban luxury, distinguishes itself as the most opulent address, where a private world awaits you: unmatched, unrushed and unspoiled. In a few short years Gurgaon will admire the opening of AAROHAN which will be a new iconic landmark in the town. These luxurious residences, ushering in a new model-enviable lifestyle of the privileged and pampering that can only be from the Vipul Group. The project's iconic form and luxuriously scaled homes with a suite of amenities, breathtaking from the outside and from within and with its location in the heart of Gurgaon, spoils us for choice. Homes at AAROHAN Sector-53, Golf Course Road, Gurgaon uphold the principle of graceful living and are as elegant and distinct as its owner. Despite a city centre location AAROHAN provides views of spectacular green, open spaces where you can imbibe the tranquility of the surroundings, evoke a sense of serenity and instill joyfulness. The thoughtful detailing prevalent from façade to interiors, from internal uber luxury to ambient aesthetics takes comfort to the next level.