Celebrate this Christmas @Ipsaa - Gurgaon
Friday, 18 December 2015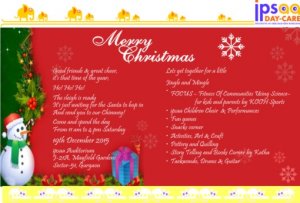 Contacts

Ipsaa

9899701058
Item description
This Saturday, IPSAA Day Care is back with its annual Christmas carnival. The festivities will commence at 11 am, and will be a wonderful opportunity for everyone to indulge in some festive fun.
In its endeavour to create a platform for progressive education in Gurgaon, IPSAA will conduct a wide range of activities to engage children of all age groups. Events such as pottery and interactive story telling seek to kindle their imagination and encourage an attitude of creative thinking. Recognising the importance of physical fitness and health awareness for children, visitors will also have the chance to engage in a unique Health & Fitness Assessment Protocol for individuals in the age group 3 – 60 years of age called FOCUS (Fitness Of Communities Using Science). FOCUS will be run by Ipsaa in partnership with KOOH Sports.

Students from Habbas, IPSAA's unique heart to hands initiative, will showcase performances. Christmas carols will be set to live music by children from the Drums and Guitar Habba. Children will also have opportunities to dabble in card making and quilling at the Art and Craft corner. There will also be a wide selection of sumptuous food to tickle your taste buds and some enthralling games for children, parents and grandparents alike.
"Festivals are an occasion for families and friends to share love and laughter with each other. We value this spirit of togetherness, and seek to foster the warmth and happiness that it brings," says Ms. Arti Mohan, Head of Academics at IPSAA Day Care.