Fortune questa on nh 8-it/ites building for lease - Gurgaon
Friday, 8 January 2016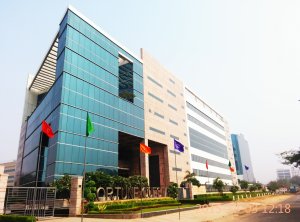 Contacts

VIKAS GABA

9811946045
Item description
Fortune Questa is a 284000 sq ft of IT/ITES development on 2 acres of land in Sector 35 of Gurgaon. The building is strategically located on Nationa Highway 8. It is only 25 km from International and National airports. The nearest Five Star Hotel Hyatt is only 3 km from the building. The building is easily accessible and has a easy approach as it is bang on NH 8. It is connected to all the vintage points. The proposed nearest metro station is only 1 km from the building. All the major builders like DLF, Unitech, Vipul etc. are coming up with residential and commercial developments in the close vicinity of the building.
The building is a LEED's certified building so there is huge saving on energy cost. The building has beautiful glass facade and is landscaped all around the building. There are water bodies kissing the walls of the building. Double floor lobby and reception, terrace garden, food courts etc further enhance the splendor of the building.
The building has 7 huge spacious floors of approx 40000 sq ft each.The floor to ceiling height is approx 4.1 meters for all floors. There are three basements and the building has sufficient car parking space for 500 car parks. The building has 6 lifts of Schindler make of 20 pax each. The chillers of TRANE make and are very energy efficient with a COP of 6.15, normal being 5.5 for most of the building. There is a beautiful terrace garden on the 4th floor of the building which can be used for get together, parties, brain storming etc.
There is huge signage facility available on the terrace of the building which is visible to approx 2 lakh car which passes on the highway through the building.
24X7 Power and AC back up
2000 KVA of DHVBN power supply
AHU have variable frequency drive
Heat Recovery Wheels
Double Glazed Saint Guben Glass Facade which prevent any heat or noise from coming in.
XPS sheets on the terrace to prevent heat.
Separate water tanks for fire, drinking, STP, Rain Water Harvesting etc.

Fortune Questa has a great neighborhood. TCS has 5000 employees working in a building only 1 km away from Questa. Other companies i the neighborhood are BMW, Yatra.com Orange Grey and other corporates.