Water Vending Machine - Gurgaon
Wednesday, 22 May 2019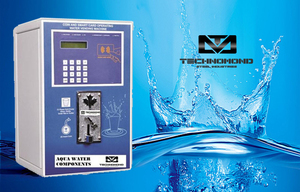 Contacts

Technomond Steel

9899016380
Item description
A Water Vending Machine is an automated water vending machine that dispenses pure drinking water. It can be installed in urban and rural localities which do not have access to clean and pure drinking water. A Water Vending Machine Suppliers works like any regular bank ATM, the only difference being that it provides water instead of money.
httpwww.technomond.in/water-ATM.html - We are leading Water ATM Machine Manufacturers and Suppliers, Water Vending Machine Suppliers and Manufacturers available in Delhi, India as competitive price and very easy to install any place.
We are an innovation driven Manufacturer and Supplier of Water Vending Machine. Based in advanced technology, our Smart Card Operated Water Vending Machine is easy to use and ensures efficient vending of water. To cater diverse demands of the clients, we offer Smart Card Operated Water Vending Machine in different specifications. Features Contact less smart card authentication for water dispenses.
As a renowned provider of Water Vending Machine Manufacturers, we bring you a wide range of immaculate quality. Our skilled professionals use only high-grade raw materials to make sure that our product meets the highest quality grades. The features such as easy maintenance and rugged construction make it an appealing proposition. To further add to its pull, it is available in modified specifications at lucrative.
Name: Ravi Kumar
Mobile No.: +91-9899016380, +91-9999457662
Website: httpwww.technomond.in
Email ID: technomondsteel@gmail.com & info@technomond.com
Price is Negotiable..